When it comes to cleaning your home, the carpets are among the trickiest if not the most difficult part to sanitise. Carpets can retain their own weight in dust and removing it without proper machinery. Palmer Cleaners is prepared to lend you a hand. We consider our team to the best when it comes to carpet and rug cleaning in London.
Our team is well equipped and we have all the machinery to completely remove any unhealthy particles from your carpets, including steam cleaning them. Our specialists will extract even large amounts of dirt and dust in addition to any spots and stains. There is no more thorough or effective service for cleaning carpets in London.
Best equipped cleaners in London
We guarantee that the carpets will look like brand new, once we are finished. The cleaning machinery and detergents we use are completely safe. Not only will the not harm any of the fabric (natural or not), but they will in fact revitalise the carpets themselves and make them look brand new, with the colours popping out, once again. Even carpets in high traffic areas of your home will be completely rid of any dust.
It is recommended that you do a deep cleaning of your carpets or other floor covering like rugs, at least once every three to six months. Our carpet cleaning options in London include both one time offers for sporadically sanitising carpets and rugs, or excellent and very affordable contractual cleaning services for quarterly or even monthly sanitation sessions.
Top carpet cleaning in London at low prices
Our carpet cleaning solutions are the preferable way for London customers because:
They're very affordable
There is not risk for the carpet, rug or tapestry
You will save a lot of time
You literally do not have to get your hands dirty
Is an excellent way to make old carpets look brand new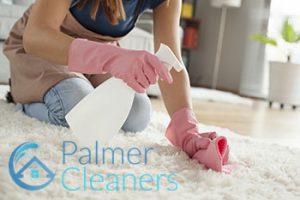 And speaking of prices – we have some excellent options. Generally, carpet cleaning services in London are on the expensive side, but we not only have very low rates and flexible pricing to offer, but we also have excellent midweek discounts.
You can learn more about the pricing from our phone operators. The support team can provide you with price quotations, as well as useful information on the London cleaning company the property cleaning services we offer. Additionally, they can give you some expert advice on cleaning and can help you organise and make the premises more accessible to our cleaners for better and longer lasting results.
Trained to effectively clean all types of carpets
We, at Palmers Cleaners, can help you maintain your carpet in an outstanding condition regardless of its material because our comprehensive carpet cleaning in London makes an excellent solution for all sorts of carpet fabrics. Our dedicated cleaning technicians are equipped and trained to use different professional carpet cleaning methods. In most of the cases, we steam clean carpets made of natural materials like wool and cotton. To preserve the colours of synthetic carpeting such as olefin and polyester, we rely on the dry cleaning technique. Therefore, our hassle-free carpet cleaning service in London will easily meet your specific needs.
The history of London dates thousands of years, possible even prior to the Romans. The city has been an important centre of trade and politics of many centuries and also – the capitol of one of the most important politically, diplomatically and mostly – culturally, countries in the world. Whether you're interested in the British Museum or the Natural History Museum and their thousands and thousands of artefacts, or perhaps are more curious about London's night life – the UK capitol will have plenty to offers you.
London's most popular attractions are the British Museum, the National Gallery and the Natural History Museum. They have something interesting in common – all of them have free entry. That is because all national museums in the UK, which amount to more than 50, offer free admission as of April 2001.
Book our cleaning team to do your carpet cleaning standalone or as part of your:
Home cleaning in Camberwell – SE5
House cleaning service in Upper Sydenham, SE26