Don't think twice to contact us if you are a facing a major or minor office sanitation project which you cannot organize or carry out on your own. We are experienced and fully insured cleaners and we provide top quality sanitation options at reasonable prices which won't harm in any way your monthly budget. We have the needed manpower to easily handle both large and small scale cleaning jobs without any unwanted complications and costly delays.
Best trained cleaning experts in London
To our understanding we are the favourite cleaners of London businesses and this is mainly due to our skilled, hard-working and seasoned team of sanitation technicians. We put our employees through mandatory and vigorous training sessions during which they don't only keep their abilities at their peak but enhance them furthermore by mastering the latest and most efficient cleaning methods.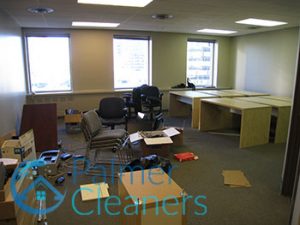 Don't worry about the heavily stained and tarnished features of your office as we work with first grade cleaning machines with the aid of which we can quickly and effectively clear large amounts of dust, dirt and harmful particles. We understand that electronic devices are extremely sensitive and delicate and this is why we always handle them with utter diligence and care.
We are renowned as London cleaners who work with eco-friendly detergents. We have chosen to use green cleaning solutions because they can meticulously remove resilient stains and spots without leaving toxic or chemical particles behind. Keep in mind that we always test the sanitation products that we use before we apply them in order to avoid discolorations and color fading.
We can cover all your sanitation needs
You don't have to face a full commercial sanitation project in order to benefit from our office cleaning services. We also provide single time sanitation options which you can use to keep clean your:
Carpets and floors
Window treatments
Lighting fixtures
Office furnishings and furniture upholstery
Restroom
We also provide contract office cleaning services in London, so if you desire you can entirely delegate to us the maintenance of your place of work. The sanitation schedule will be drafted to accommodate your agenda and daily operations and can be adjusted periodically. Bear in mind that our flexible schedule permits us to carry out late night operations which ultimate means that we can clean your office after work hours.
Our services can be booked at any time of the day as we maintain a customer support center which is open 24 hours a day. Our consultants are friendly and knowledgeable professionals who will happily answer to all your questions regarding our business cleaning services, provide you additional information about the remainder of our London sanitation options and last but not least draft and send you your customized free quote, so that you can see for yourself that we don't just talk the talk but walk the walk.
An immaculate office at all times
We are one of the best reputed office cleaning firms in London today. If you want your workplace to be in a top condition at all times, then you should indeed count on us to send vetted certified sanitations specialists to it in order to take care of business. Naturally, they will do so either after or before your work hours, so that no disturbances in the usual processes taking place in your office occur. Check out the outstanding customer reviews that we receive on a regular basis and you are going to see that we are indeed the most viable commercial cleaning option you have in London.
When it comes to business – London is the place to be, not just in Europe, but globally. It is by all measures a global trade and financial heart, rivalled only by New York and Hong Kong. The centre traditionally lies in the London City, but a couple of decades ago, Canary Wharf became the second major place of stock and financial trade in the UK capitol, accommodating even more business headquarters and major company offices.
Tourism is a major industry in the English capital. Nearly 50 million people from all over the world visit London on an annual basis for attractions such as Buckingham Palace, The British Museum or Westminster Abbey.
Book a cleaning team for both your office and your home in: